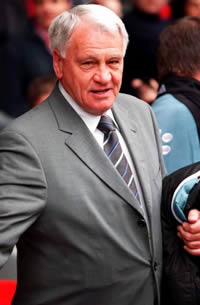 Here are just some of the things the Toon boss has tried to say but got muddled up.
"I thought the challenge on Ken (Kieron) Dyer was a definite penalty"
"All of the players start afresh. I have no premonitions, the floor has been wiped clean."
"That performance didn't just exceed my expectations, it went past them as well."
"The players didn't need motivation when I arrived, they just needed something to gee them up."
"Ive been given a ring of confidence by the chairman."
"I've heard that the match tickets are selling like cream cakes."
"Well, we're not out of the jungle yet."
"When Alan Shearer trains, he's like a bull in a sweet shop."
"I couldn't be more delighted for the players, I'm over the hill."
"Well make sure Alan Shearer's wrapped up in candy floss."
"Laurent (Robert) has fractured his cheekbone, so he hasn't been kissed, has he?"
"The hotel's fine, the foods great, the people are nice, but it (Sarajevo, Bosnia) isn't Hawaii."
"Once your on the banana slide, its hard to get off."
"Newcastle tackled like tigers and jumped like salmon"
"Had we had a goal, I think we'd have won." (After drawing 1-1 with Everton)
"Ruud has bought big Duncan (Ferguson) just for Alan (Shearer), but wisperers said that it was as a threat to Alan."
"I banned mobile phones." (after being asked about Newcastle's communication problems, on the pitch.)
"I want to play the long ball and I do want to play the short ball. I think football is all about long and short balls."
"The first 90 minutes are the most important."
"With Maradona, even Arsenal would have won it (the 1986 World Cup)."