My name is Jonathon Rogers and I am 15 years old. I live in a small town in Mid Wales called Llandrindod Wells. I have supported Newcastle since the age of seven when one my my mates came up to me and asked if I wanted to play football, I didn't know anything about it so he taught me, and he supported Newcastle so I followed in his footsteps. Ever since then I've been hooked.
We then got more of our friends to become Newcastle supporters, and soon there were about 15 of us, supporting the Magpies. Most still are to this day, but some have either changed to the bigger teams like Manchester United or Liverpool or lost interest in football totally.
It didn't take long for me to start getting Newcastle United items, my first piece of merchandice was a keyring with the Newcastle badge on the one side and a picture of my favourite player at the time, Les Ferdinand on the other. I also liked David Ginola, I used to love running at defenders in the playground like he did, and skipping past them, and Shaka Hislop was another idol of mine as I was forced to go in goal in my younger days, so I watched him closely to try and learn things from him (but they never worked, I was rubbish in goal, so I became a striker!).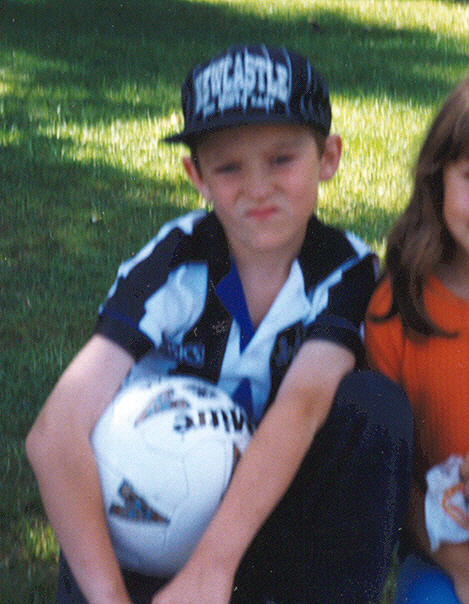 My first shirt was bought for me by my mum and dad, it was the home shirt from the 1994-95 season with the big blue Newcastle Brown Ale star on the front, made by Asics. I never stoped wearing it for about six months, I loved it so much. However, on the pitch, we were, as everyone knows, 12 points clear of Manchester United at the top of the table at Christmas, but threw it all away and came second. It didn't seem to bother me that much when I was younger, I didn't mind when we lost, except when I first saw Newcastle play live on the telly against Liverpool in that famous 4-3 defeat with Stan Collymore scoring in the last minute.
During the summer, I also got involved in Euro 96 by watching most of England's games, and even though I'm Welsh, I supported the English since the point when Alan Shearer retired from international football, then changed my aligances purely to the Welsh. During the tournament, I took notice of Shearer and though what a great player he was (and still is), and then kept trying to play like him, and it has paid off today, I can strike a football with a lot of power so that goalkeepers can't stop them, I take penalties just like Shearer after watching him take them over and over again, and I shoot on sight and instinct like the Newcastle skipper, he is my hero and has been ever since that great day in July 1996 when Shearer came home and signed for Newcastle for £15m.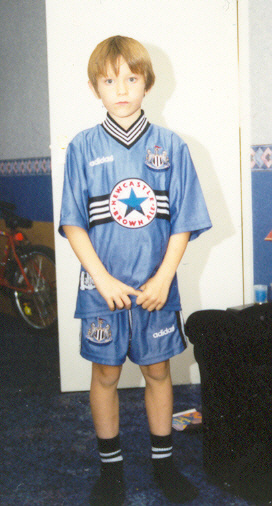 During this time, I had really grown as a football fan, and my bedroom was plastered in Newcastle and England posters, not a piece of wallpaper was left to be seen. I knew all of the Newcastle players, even their squad numbers, and had a load of Newcastle stuff in my bedroom, curtains, duvet, keyrings, badges, football figures, the lot. The 1996-97 season was one of my favourites because I loved the way that Shearer and Ferdinand played together, scoring almost 50 goals between them. We finished second and I felt that we were on the verge of finally winning something with the players we had at our disposal. However, the next summer, Ferdinand left along with Ginola and Peter Beardsley, and even at the age of nine I was frustrated with the club, especially when Kevin Keegan quit and was replaced with Kenny Dalglish. I also went to see my first real football game, however, it was Aston Villa v.s Leeds at Villa Park, not Newcastle, but I had had a taste of live football and loved it, the way that all the fans chanted together was special. Villa won 2-0 with goals from Dwight Yorke and Tommy Johnson, and sadly that's about as much as I can remember about the day apart from travelling on the coach and playing for Llandrindod against a team from Birmingham. It was a great day though, and I couldn't wait to finally get to see Newcastle play in the flesh instead of on Sky Sports.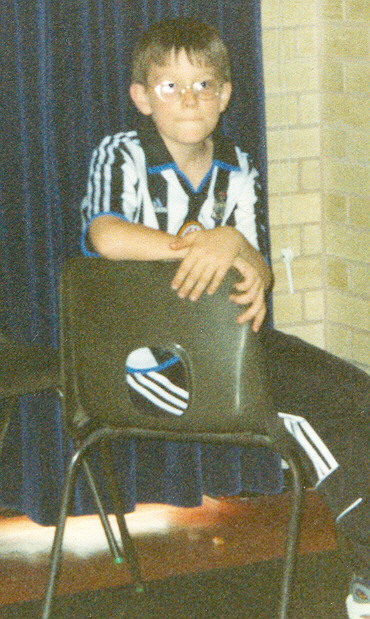 Then came those fateful three seasons where all Keegan's hard work was undone. 1997-98 started with a bang with Champions League football and that 3-2 win over Barcelona is still one of my favourite games, behind the 5-0 win against Manchester United the season before and the 3-2 win against Feyenoord last season. However, with no Shearer, the team drifted down the league, and I can remember when Shearer came back from injury in January 1998 against Bolton, me and two of my mates were in a car when the news came and we cheered, it was great to have our God back. Then there was the FA Cup final against Arsenal. I watched the game on a portable TV as my parents went shopping in Hereford 40 miles away, I was walking around a shopping centre watching it, and unfortuantly we lost, and I cried most of the way home, I was gutted, they did so well to get that far, and played nothing like their best and it was a shame that they hardly tried to win. The following year was the same, however I watched that in my room and didn't cry, even though we were rubbish and it was against bitter rivals Manchester United. In between this spell of time, I watched most of the World Cup, and that was when I wanted to be a sports journalist. My teacher at the time was disabled, and found it hard to get to watch the games as she had work to do in school and took ages to get home, so she asked me if I would write a short report on every game, I obliged and came out with some great pieces of writing, and ever since then I wanted to go to the World Cup and write for a living, and I'll do my best to get there.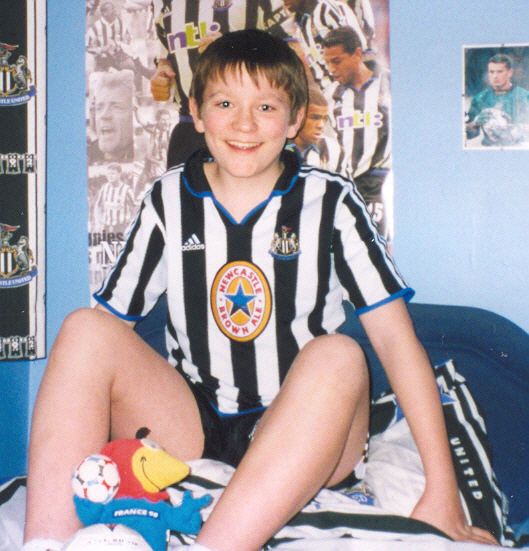 Then came the worst part about being a Newcastle fan, Ruud Gullit was in charge and I was happy when he came because Dalglish was rubbish in my estimation, but Gullit turned out to be even worse, so when he finally got sacked after that defeat against Sunderland when he left Shearer and Duncan Ferguson on the bench, I was happy. Then we had to play Manchester United at Old Trafford and got hammered 5-1. I could face going to school the next day, and with Newcastle sitting on the bottom of the Premiership, I decided I wanted to change teams. I got all my Newcastle stuff and dumped it outside my room, I was so frustrated, then I sat down on my bed and though "No, this is the loser's way out, if every Newcastle fan did this, then they'd never stay up." so put all my stuff back where it was, and never regretted it since. Sir Bobby Robson took over then, and soon enough we beat Sheffield Wednesday 8-0. Sir Bobby is my favourite manger since I've supported Newcastle, and it took some beatin to knock Keegan off top spot, but Bobby took us from the bottom to the top with limited funds, and I think every Newcastle fan is ever so grateful to him for doing that, and I never want him to leave the club, he's a legend and deserved his knighthood.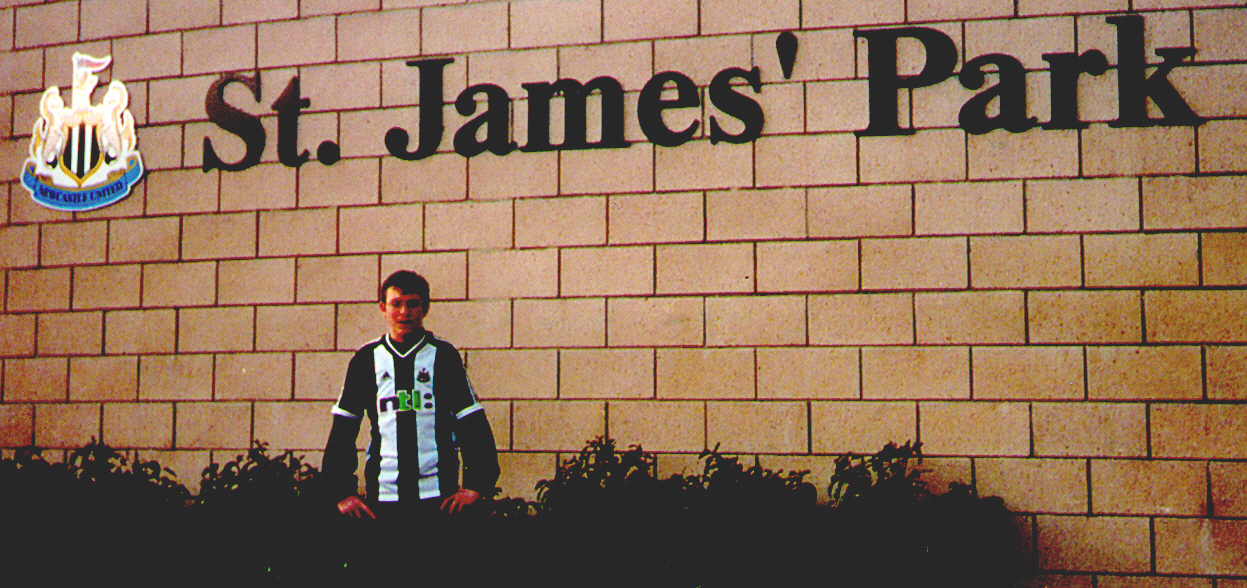 Ever since Sir Bobby took over, I've never looked back, especially when I finally got to see Newcastle play live for the first time against Manchester City. My dad's cousin is a director at the club, and he got us tickets at Maine Road to watch them play. I was very nervous throughout the whole game, sitting in all the Manchester City fans, but I let my emotions go when Shearer headed in the only goal of the game half-way through the second half, I jumped out of my seat and screamed "YES!" at the top of my voice before remembering who I was sitting with, and covered my mouth and sat down quietly. It was a great day, and I had finally got to see Newcastle play. In December 2000, I decided to ake a website about Newcastle on Moonfruit with some friends, however I was the only one who took a serious interest in it and decided to make another using Tripod during the summer break in 2001. The 2001-02 season is my favourite as a Newcastle fan, it had everything. I said at the start of the season, if we could get in the top half of the table, I'd be happy, but the lads did so much more, they came from behind something like 10 times to win games, they were top of the league by Christmas, they ended their London jinx against Arsenal, they beat Manchester United 4-3 at St James', and really, were back to where they were under Keegan. And, I finally got to go to St James' to watch the FA Cup tie between Newcastle and Man City when Keegan himself returned for the first time since leaving, it was a special moment I'll never forget when the City team bus pulled up and the Newcastle fans were still cheering the man that transformed the club, even though he'd left five years earlier. St James' Park is an awesome sight, I can't describe how big it is, and inside it's even better, especially the roar the of the crowd when Nol Solano poked the ball past the City keeper and scored the only goal of the game to send United through to the next round, it was the best day of my life by far, and it probably won't be beaten for many years.
The following season, I went to see Newcastle play Manchester City once again, and for the first time I saw them lose thanks to a Darren Huckerby goal. It was to be one of the minor blip in a season that saw us progress further in the Champions League than I ever imagined, especially after losing the first three games, and that game against Feyenoord is one of the classic games, I screamed with joy when Bellamy stuck the ball in the net in the 91st minute as I thought they'd thrown it all away once again. The league campaign was also fantastic except for the two thrashings by Manchester United. In the 6-2 massacre at St James', I watched some of the game in Brecon Leisure Centre, which included a party of Manchester United fans, I entered the room at half-time in my black and white shirt and watched Jenas' wonder goal, but then couldn't believe what I was seeing when the Reds shoved another six past us, during this I was getting jeered by the Man Utd fans, and for the first time I was embarraced to wear my shirt in the street we were that outclassed. However, I still love Newcastle and I would love it even more if we could just win a trophy, especially the league, because it hasn't happened for so long, and if there is one team who puts their fans through thick and thin and deserve the title because of them, it's us, and I'm just waiting for that glorious day when Alan Shearer hoists the Premiership trophy over his head at a packed St James' Park with 52,000 screaming Geordies celebrating with him.