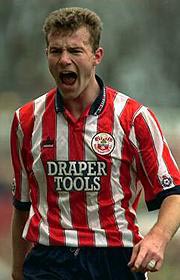 Shearer in his Southampton days
Alan Shearer was born in Newcastle-upon-Tyne on the 14th August 1970. All he wanted to be was a footballer. He had a trial with Newcastle in his teenage years, but because of the shortage of goalkeepers, Alan offered to go in goal! Newcastle didn't follow up their interest in Alan, but he joined Southampton for a trial. He later signed schoolboy forms for Southampton and made his full debut against Arsenal in April 1988. He amazingly scored a hat trick, the youngest player to do so! He was Southampton's top scorer in the 1991-92 season with 19 goals.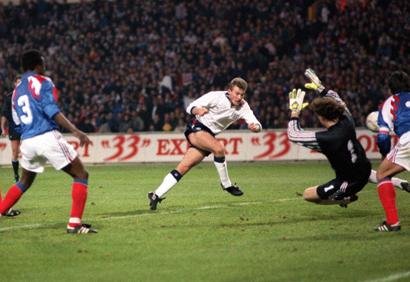 Shearer scoring on his England debut
Shearer made his full England debut against France in February 1992 at Wembley, after some impressive displays for the Under 21s. He scored a half-volley and England won 2-0. He signed for Blackburn Rovers in July 1992 for a British record £3.6m. He had a great start to the season, scoring 22 goals in 26 games but injured his knee on Boxing Day 1992 against Leeds and was out for the rest of the season. He was fit in time for the start of the 1993-94 season and scored 34 goals to help Blackburn to second place in the league. He was voted Footballer of the Year in April 1994.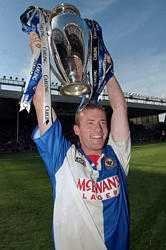 Shearer lifts the Premiership trophy with Blackburn
Then, Shearer helped Blackburn win the Premiership title in the 1994-95 season after scoring another 34 goals. He was voted PFA Player of the Year that season as well. Blackburn lost the Charity Shield though to Man Utd the next season and Blackburn faultered to 7th in 1995-96. But, Shearer scored over 30 goals again and was the first player to do that since Jimmy Greaves in the 1960s. He also was the first player to score a century of Premiership goals that season. Shearer was picked for the England squad for Euro 96 and scored his first international goal in 13 games against Switzerland. He also scored against Scotland and Holland (twice) in the group stages and against Germany in the semi-final. England lost on penalties in that game, but Shearer scored his spot kick, and ended up Top Scorer in the tournament.
Shearer just after signing for Newcastle for £15m from Blackburn
Then in a shock move, Shearer left Blackburn to go to Newcastle for a world record £15m in July 1996. He hit 25 goals to help Newcastle to their 2nd consecutive second place and won the PFA Player of the Year again. He was named England captain against Moldova and after some good displays he kept the captaincy and England qualified for the World Cup. But in a pre-season tournanament, Shearer broke his leg after running for a loose ball. He was back by January but Newcastle had suffered and they finished 13th. Shearer was cleared in April 1998 by the FA of kicking Leicester's Neil Lennon in the face after going in for a tackle. Shearer scored 5 goals for Newcastle on a magical FA Cup run but they lost in the final and Shearer struck a post.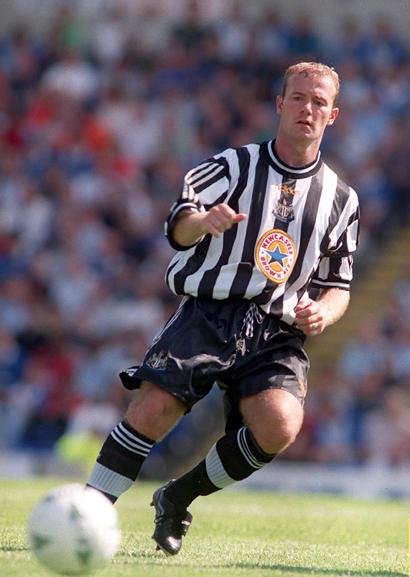 Shearer in action in a 1997-98 friendly before he got injured
He played in the World Cup finals for England in France and scored 2 goals against Tunisia and Argentina. Again, England lost on penalties to the Argentinians but Shearer smashed his penalty home. Shearer again helped Newcastle to a second consecutive FA Cup final in 1998-99 but they lost again against Man Utd, but he became the captain that season as well. He scored 14 goals that season but was sent-off for the first time in his career on the first day of the 1999-00 season against Aston Villa. He fell out with Ruud Gullit was Gullit put both Shearer and his strike partner Duncan Ferguson on the bench against rivals Sunderland and Newcastle lost. Bobby Robson came along and reinvented Shearer and he ended up with 30 goals in all competitions. He scored his 300th career goal against Arsenal on the last day of the season at St James' Park but retired from the international scene with England at only 30. His international record was 30 goals in 63 England appearences.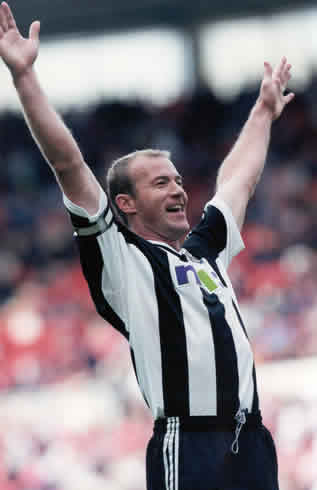 Shearer celebrating another goal
He hit his 200th league goal against Coventry in August 2000 and went on to score another 5 league goals that season but he went down with an old knee injury against Everton in March which kept him out of action for the rest of the season. During his lay-off, he picked up an OBE from the Queen for services to football, and he returned the next season stronger and fitter, and smashed 23 league goals to help Newcastle qualify for the Champions League. He also scored his 200th Premiership goal against Charlton in April 2002. Shearer then proved he could still score on the international stage in United's Champions League campaign with a hat-trick against Bayer Leverkusen and a brace against Inter Milan in the San Siro. Shearer also netted goal number 300 of his club career against, ironicly, Blackburn Rovers in October, and followed that up with his 100th league goal for Newcastle against Manchester United the following month, becoming the first player in the Premiership to score 100 goals for two different teams. He was then presented with the Premiership Player of the Decade award at the Premier League 10 Seasons awards to cap a record breaking season. Even with all these acolades, Shearer will not be happy until he guides Newcastle to their first piece of silverware in almost 40 years, and who wouldn't bet against that happening this season?