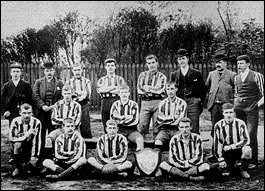 One of the earliest squad photo, taken in the 1892-93 season
Newcastle United FC was founded in 1892 after a merger between two clubs, Newcastle East End and Newcastle West End. The 2 clubs changed their name to the appropriate name Newcastle United, and they played their home games at West End's pitch, St James' Park. The clubs changed their red shirts to black and white vertical stripes, a tradition which is still going today. They entered the Football League a year later. In 1898, they were runners up in the Second Division and got promoted into the First Division.
Hughie Gallacher
Newcastle then went on to win 3 League championships in 11 years and almost won the double in 1905 and reached 5 FA Cup finals, only winning 1 at their unlucky ground, Crystal Palace, now an athletics venue. They also won the Charity Shield in 1909. Newcastle had many household names, such as Andy Aitkin, Colin Veich, Jimmy Howie and the man who changed the offside law, Bill McCracken. They lifted the FA Cup at the newly built Wembley Stadium against Aston Villa with their Alan Shearer of the 1920's, Hughie Gallacher. Gallacher also helped Newcastle to their last league title to date in 1926-27. They also had Stan Seymour, who became one of Newcastle's influential men, who was a player, a manager and a director in the early days.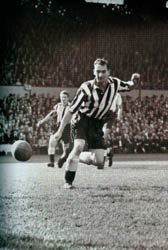 Jackie Milburn
Newcastle won their 3rd FA Cup in 1932 against Arsenal in controversial fashion. A cross fom Jimmy Richardson went over the goal line but the referee didn't see it and Jack Allan scored an equaliser. He went on to score another to win the cup for the Magpies. But after the glory at Wembley, Newcastle were relegated for the first time to Division 2 in 1934. It was all change at Newcastle in the 1940s with stars like Jackie Milburn (Newcastle's all time top scorer to date), George Robledo from Chile, Bobby Michell and captain Joe Harvey. Newcastle got promoted in 1948 and an average of 57,000 watched Newcastle, a national record for many years.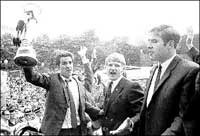 Bobby Moncur with the Inter-Cities Fairs Cup in 1969
Newcastle were the cup kings in the Fifties with 3 cup wins. The first was in 1951 against Stanley Matthews Blackpool, one year later against Arsenal and in 1955 against Manchester City in a 3-1 romp. But the departers of star players saw Newcastle fall back into Division 2. The directers called back Joe Harvey to be manager and they won the 2nd Division 4 years later. They qualified for Europe in the Inter-Cities Fairs Cup (now the UEFA Cup) and suprised everyone by beating Ujpest Dozsa of Hungary in the final, 6-2 on aggeragete. Their star players were Wyn Davies of Wales, Bryan "Pop" Robson and Bobby Moncur.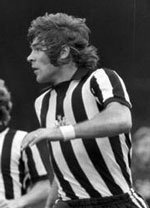 Malcom Macdonald
In the years that followed, Harvey strengthened his squad with players like Terry Hibbet, Jimmy Smith and the star purchase of Malcom Macdonald (or Supermac as he was called on Tyneside). Macdonald was one of Newcastle's all time legends, scoring goals from all over the pitch. He helped Newcastle to Wembley in 1974 for the FA Cup final against Liverpool and the 1976 League Cup final against Manchester City. Newcastle lost both games, but they won the Anglo Italian Cup in 1973 and the Texaco Cup in 1974 and '75. Harvey left in 1975, replaced by Gordon Lee. He sold Macdonald to Arsenal and left 2 years later. Richard Dinnis took over in 1977 and they got relegated in '78 under Bill McGarry.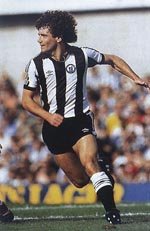 Kevin Keegan
Arthur Cox was Newcastle's savior in 1980 and took Newcastle up to the First Division. He amazingly brought Kevin Keegan to St James' Park in 1982 and brought up youngsters Peter Beardsley and Chris Waddle as well as Terry McDermott, Keegan's sidekick from Liverpool, and David McCreevy. Cox left in 1984 to be replaced by World Cup winner Jack Charlton. He sold he best players to get money. Beardsley, Waddle, and the new kid Paul Gascoinge all left. The Magpies tumbled back into Division 2. The crowds got smaller, they were running out of money and players left here, there and everywhere.
Alan Shearer signing for £15 million in 1996
Newcastle needed a savior in 1992 with the club on the brink of relegation to Division 3 for the first time in their history. Sir John Hall took control of the club and his first duty was to bring Kevin Keegan back to the club as manager. The crowds flocked back to St James' and Newcastle survived the drop. The Magpies got promoted to the newly created FA Premier League after winning the First Division title by a mile, thanks to many new faces such as Andy Cole, Rob Lee and Barry Venison. Newcastle finished 2nd in the league in 1996 and 1997 with great financial backing from Sir John. New players included Les Ferdinand, David Ginola and of course, Alan Shearer for £15m (a world record at the time) in 1996. Keegan suddenly left in 1997 and Kenny Dalglish took over. He sold most of the best players and Newcastle slumped the 13th. They also lost the FA Cup final to Arsenal. The Champions League was a sucess though even though Newcastle went out in the group stages, they beat Barcelona 3-2 at St James' with Faustino Asprilla scoring a hat-trick. Ruud Gullit took over in 1998 and they finished 13th again and lost another cup final to treble winners Manchester United. Gullit was sacked in September 1999 with Newcastle bottom of the league.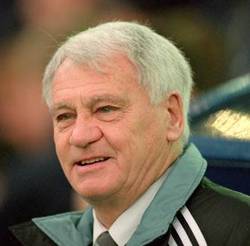 Sir Bobby Robson
Bobby Robson took charge and steered United up the table to an eventual finish of eleventh. After another 11th placing the season after, things were looking bleak for the Toon Army. However, Robson shook up the side with a few new faces and captured the imagination of the public by guiding his team to 4th position in the Premiership, after challenging for the league for most of the season, and thus qualifying for the UEFA Champions League. That was an adventure in itself, with United going all the way through to the second group stage of the competition, beating Juventus, Bayer Leverkusen and an amazing 3-2 win against Feyenoord with Craig Bellamy popping up to score the winner in the last minute to send United through to the next stage. They did even better in the league as well, again threatening Manchester United and Arseanl for the title, but came third, their best position since 1997. The team is packed full of young superstars like Jermaine Jenas, Kieron Dyer, Craig Bellamy, Hugo Viana, Shay Given and Shola Ameobi, and with Alan Shearer leading the side out onto the pitch, the future looks very bright for Newcastle United.