A
Adidas: Kit suppliers to the Magpies since 1995
Asprilla: Faustino Asprilla scored a hatrick against Barcelona in our first ever Champions League game in 1997.

B
Beardsley: Peter Beardsley is one of Newcastle's legends and scored over 100 goals for the Toon Army.
Black and white: The colours that have been on Newcastle's shirts since they were formed in 1892.

C
Champions League: The competiton in which we have been in twice before the start of this season, we've beaten the likes of Barcelona, Dynamo Kiev, Juventus and Bayer Leverkusen in only two attempts in Europe's premier competition.
Clark: Lee Clark is a legend on Tyneside because after he left the club for Sunderland in 1997, he was pictured during the 1999 FA Cup final against Manchester united wearing a t-shirt with the slogan "Sad Mackem B*****ds" written on it, and was soon sold to Fulham.
Cole: Andy Cole holds the record for the most goals scored in a season, 34 in 1993-94, before he was sold to Manchester United.
Crystal Palace: Not the football team, the venue where Newcastle lost 4 FA Cups at the turn of the century before it was replaced by Wembley.

D
Dalglish: Kenny Dalglish virtually ruined Newacstle, undoing all Keegan's hard work.
Darsley Park: Newcastle's training ground.
Dosh: Kevin Keegan spent over £60m rebuilding Newcastle on players alone, millions was also spent on the stadium.

E
England: Many Newcastle players have gone on to play for England, Alan Shearer, Kieron Dyer, Jonathan Woodgate, Lee Bowyer and Jermaine Jenas and are the only ones from the current squad, but Shola Ameobi and Darren Ambrose represent the Under 21s at the moment.
Euro 96: St James' Park was a venue for the competition, Romania, France and Bulgaria all played there.
European competitions: Newcastle have played in all of them, the UEFA Cup, the Champions League, the Cup Winners Cup and the Intertoto Cup.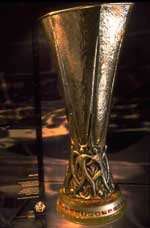 The UEFA Cup, won in 1969
F
FA Cup: Newcastle have played in this competition for over 100 years, winning it 6 times and runners-up 7 times.
Fairs Cup: The old name for the UEFA Cup that Newcastle won in 1969.
France: Homeland of Olivier Bernard, Laurent Robert and David Ginola.

G
Gallacher: Hughie Gallacher is another Newcastle legend, 68,386 turned out to see him play against Newcastle for Chelsea in 1930 after he had left the club the previous season, a Newcastle record.
Gazza: Paul Gascoigne started his career at Newcastle, moved to Tottenham, cried for England and played for various clubs since. Currently in China re-building his career.

H
Hall: Sir John Hall spent millions saving Newcastle and turning them into winners. He also owned the Newcastle Falcons rugby Club and the Newcastle Cobras ice hockey team, and was president of the Magpies before selling his stock in the club.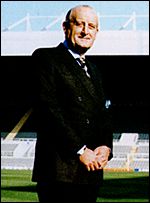 Sir John Hall
Hamann: Dietmar Hamann was bought from German side Bayern Munich for £5m and was sold to Liverpool a sason later for a Newcastle record £8m.

I
International: That's what Newcastle are, well known all over the world.
Intertoto Cup: Competition that Newcastle got to the final of in 2001, but lost on the away goals rule to Troyes 4-4.

J
Jenas: Newcastle's hottest young prospect, he was PFA Young Player of the Year last season.
Jersey: Newcastle United have always worn a black and white jersey, but their predecessors wore red ones!

K
Keegan: Kevin Keegan amazingly joined Newcastle in 1982 and left after two glorious seasons, only to become manager from 1992-97 and transform United into winners again.
Ketsbaia: Georgian Temuri Ketsbaia scored in the last minute of Newcastle's Champions League qualifier against Croatia Zagreb to qualify in 1997.

L
Lawrence: Jimmy Lawrence hold Newcastle's record for the most appearences, 432 from 1904-22.
Lee: Rob Lee has played in the most Premier League games for Newcastle since it began in 1992.


Rob Lee
M
Macdonald: Malcolm Macdonald is one of Newcastle's all time legends, fans were furious when he was sold to Arsenal in the mid 70s.
Magpies: The nickname of Newcastle United, originated from their black and white shirts.
McCracken: Bill McCracken played for Newcastle at the start of last century, and the offside law had to be changed because of him!
Milburn: Jackie Milburn is the all time top goalscorer for Newcastle, with 239 goals in all competitions, he also has a statue and a stand named after him at St James'.
Moncur: Bobby Moncur was Newcastle's captain in the Fairs Cup victory in 1969.

N
Newcastle United: The name was suitably chosen after the merger between Newcastle East and West End.
Newport County: The victims of Newcastle's best result, 13-0 in Division 2 in the 1946-47 season.
Nine: The shirt number that some of the greatest Newcastle players have worn, Shearer, Milburn and Macdonald are a few.
Northern Rock: Newcastle's shirt sponser

O
One hunderd Premiership goals: One of the only men to have done it, Alan Shearer was the first while at Blackburn and has scored another century since for Newcastle, a Premiership record.
Owen: A thorn in the side of Newcastle, Michael Owen has scored 12 goals against Newcastle since 1997-98.

P
Pay-per-view: Newcastle were the first team to be featured on Pay-Per-View for a Premiership game against Chelsea in August 2001.
Premier League: The league Newcastle are in, or for it's full name, the FA Barclaycard Premiership.

Q
Quarrells: 2 famous quarrells at Newcastle have been between Malcolm Macdonald and Gordon Lee, and Ruud Gullit and Alan Shearer. Macdonald and Gullit both ended up leaving the club.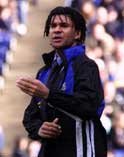 Ruud Gullit was sacked by Newcastle after quarrells and bad results
R
Relegation: A feat that Newcastle have acomplished on many occasions, the last one was in the 1980's.
Robson: Sir Bobby Robson, the savior of Newcastle saved Newcastle from Ruud Gullit in 1999-00 and has spent money wisely, and making Newcastle United one of the major forces in European football again, aged 70.

S
Seymore: Stan Seymore was Newcastle United, being a player, manager and director until he died.
Shearer: Alan Shearer is Newcastle's most expensive player, at £15m, and is currently the club captain.
Shepherd: Freddie Shepherd is the Newcastle United chairman, taking over from the great Sir John Hall.
St James' Park: The ground where Newcastle United have always played, now has a capacity of about 52,000.
Sunderland: Newcastle's fellow arch rivals, currently in Division One.

T
Toon Army: Newcastle's unofficial nickname, given to them by their fans. Toon Army is Geordie for "Town Army"

U
Ujpest Dosza: Newcastle's opponents in the 1969 Fairs Cup final. Newcastle won 6-3 on aggeragate and won their first European trophy.
Umbro Tournament: Pre sason tournament that Newcastle played in in 1997-98 with Chelsea, Everton and Ajax. Shearer broke his leg and that ruined our season.

V
Viana: Hugo Viana is the world's most expensive teenager, he cost Newcastle around £8m when he signed in 2002 from Sporting Lisborn.
Victory: Something Newcastle achieved a lot with Kevin Keegan and Sir Bobby Robson, and have come very close to winning the Premiership twice.

W
Watson: Steve Watson is Newcastle's youngest ever player. When he played against Wolves in 1990, he was aged 16 years and 223 days.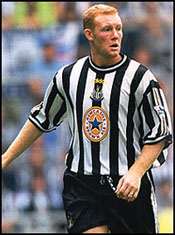 Steve Watson, Newcastle's youngest ever player
Wembley: Newcastle played their 3 times during the 50's and won 3 Cup Finals, went there twice in the 70's and lost a FA Cup and League Cup finals and lost 2 Cup finals in the 90's.

X
X Rays: Many Newcastle players have had them recently, which means they're on the treatment table than on the pitch!

Y
Yippie!: Newcastle have won 12 major trophies in their history, the most recent being in 1969.

Z
Zebra: Who knows, Newcastle's nickname could have been the Zebras if the Magpie hadn't of got there first!