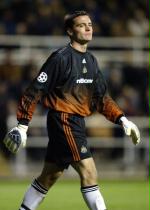 Steve Harper signed for Newcastle from non-league football in 1993 but it took six years for him to break into the first team then played in the 1999 FA Cup Final against Manchester United in only his tenth senior match.

Before making his first-team debut, Harper went out on loan to Bradford City, Hartlepool and Huddersfield Town, and made a lasting impression for former Newcastle manager Kenny Dalglish to turn down Huddersfield's bid to take him ther pernamently.

After he broke into the first team afteran injury to Shay Given, he played his first game against Middlesbrough at the Riverside Staduim in 1998. At the start of the 1999/2000 season, Steve started the season as first choice but then changed with good friend Given in goal and ended the campaign under treatment for injury. In the next season, Harper was restricted to only 9 starting appearances as goalkeeping Given took on the number one jersey.

However, when he did play Harper turned in excellent displays each game and had an injury just prior to the match at Leeds in January 2000 had not ended his run of six successive games, he may have held onto the first team place for the rest of the season. Harper only played three games in 2002-03, two in the Champions League, but, he has proved time again, that he is a great deputy to Given as Newcastle's number 1 keeper.


Playing Position

: Goalkeeper

Date of Birth

14th March 1975

Height

: 6' 2"

Squad Number:

12

Date Signed/Fee

July 1993, free

NUFC debut: 8 November 1998 v Wimbledon (H)

Previous Clubs

: Seaham Red Star, Bradford (loan), Hartlepool (loan), Huddersfield (loan)

NUFC Total Games/Goals

: 52 (3) 0